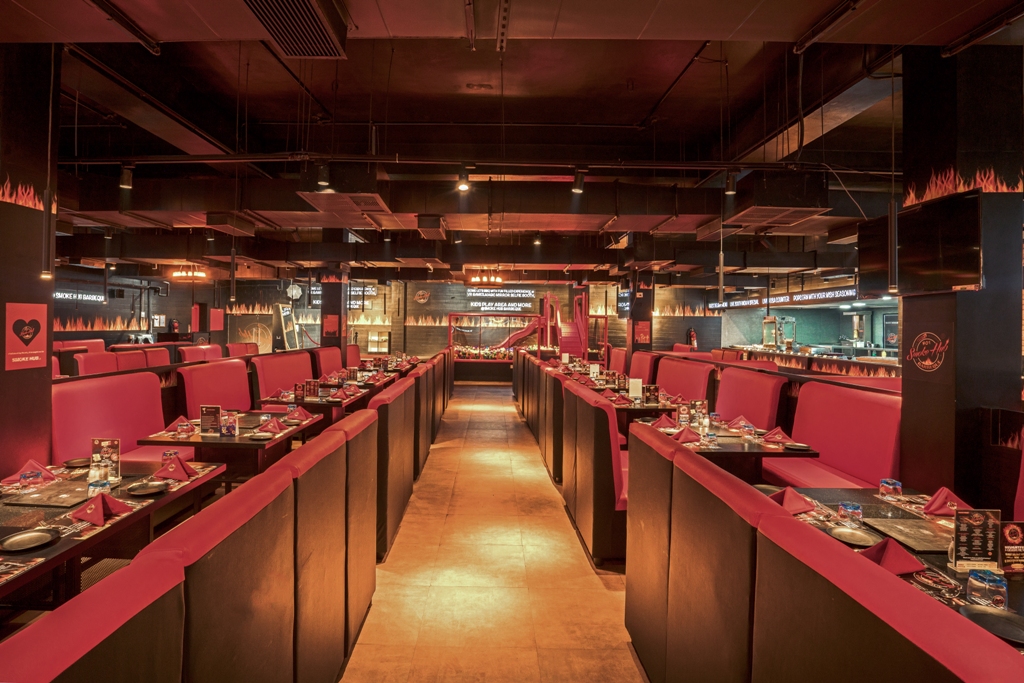 ASPIRING TO BECOME AN ENTERPRENEUR?
LOOKING FOR A SUCCESSFUL VENTURE IN BUSINESS?
SMOKE HUB BBQ – THE UNLIMITED BARBEQUE BUFFET RESTAURANT
FRANCHISE OPPORTUNITY AWAITS YOU!
What Started as a mid-sized restaurant in Vadapalani back in December 2018, has now become a vision to redefine the concept of Buffet Restaurants.
Thus, to gratify the experience of Buffet dining, we've introduced 'Fun with Food', in our Velachery outlet which is over 5000 sq ft, featuring some great fun activities like VR gaming, a Magic mirror selfie booth, and a dedicated Kids play area.
It is evident from our services that our aim is not only to run a profitable restaurant but to become one of the leading players in the segment of BBQ buffet restaurants. To put our dream into action we are looking for like-minded people who are passionate and starving for success, to whom we'll be offering an opportunity to become Smoke HUB BBQ's Franchise partners/owners.
Become a part of the Smoke hub family
Our Franchise – An Unfair Advantage
A booming name among the barbeque business, Smoke Hub Barbeque stands out for serving an enormous variety of starters at an eye-catching competitive price by industry norms. Unlike any other barbeques in town, we serve fully customized dishes as per customer requirements.
We pride ourselves on being the first barbeque that also offers delightful Chinese starters in addition to regular starters. This is one of the key advantages that our franchises would have over our competitors.
Our Mission is to extensively grow our outlets across the country under the brand name 'Smoke Hub Barbeque' and franchise it to partners who share a common goal. We constantly strive to deliver the best food in the city for people of all ages, from children to the elderly.
Families, children, and elders alike, will enjoy the subtle and mid-range spicy flavors we cook. Our customization to an individual's sensitivity from sour, savory to sweet palate makes us different from every other joint in the city and gives us the potential to attract all ranges of people.
Our menu includes child-friendly dishes, filled with the flavor and deliciousness of cuisine ranging from Chicken Stick, Golden Fry Prawns to mouth-melting multi-flavored Ice creams. Also, having the option of an 'a la carte' menu, children will be pleased and excited to see the possibilities of choosing from a variety of options!
This restaurant will also be ideal for couples who want to settle down, halt their plans on a hot afternoon and delve into a quiet and appetizing meal. Our calm and subtle ambiance along with our food is sure to lighten up the mood and render an enjoyable experience!
Speaking of diversity, our joint is sure to become a favorite spot for corporate professionals as well. Very frequently, corporate firms organize events such as parties and team outings. Here, our style of food will fit like a glove to all their requirements of taste, ambiance, and enjoyment! With quite a big seating and walkway, our establishment will effortlessly be able to host a huge corporate team for lunch and keep them comfortable throughout the dining.
A Unique & Irristable offer for Investors/Franchisees.
With Smoke Hub barbeque our Investors can follow a Fire and Forget approach when it comes to the physical labor of our partners. As we provide 360-degree support for our investors, starting from Basic planning, Carrying out the project, Setting-up the restaurant,
Hiring and Training the staffs, Marketing & Sales, etc. The functioning of entire operations shall be followed and done by the 'Smoke Hub Barbeque' team itself.
In addition to all this, serving HALAL food would also be the main attraction and an important factor that would bring in more Customers.
Franchise model for Investors & Partnership firms. Smoke Hub BBQ can fully support in choosing a suitable
location for establishing the Franchise outlet.
We will form a Partnership Agreement subject to Limitations with the Investors whom we select and Smoke Hub BBQ will also be holding a minimum share to act as a Designated partner.
The Franchise Agreement will be formed between us and the partner firm through which we authorize the partner firm to act as our Franchise partner in the chosen location.
The Entire operations shall be operated and run by Our Smoke Hub management.
Investors can invest a minimum of 50L and enjoy 15% equity as per the partnership and expect an ROI of 30% to 40% for the amount invested by them.
The Rights for Making Decisions and the Authority over operations shall remain with Smoke Hub BBQ. The Investors will not have a hold over it.
The Profit after Tax Deductions will be shared in half-yearly terms according to the Percentage of Equity that the investors hold, the investor need Not pay any further tax for this income.
Thank you for showing interest in becoming our Franchise Partner. We are glad that you have considered Smoke Hub BBQ to invest your Valuable Time and Money. The total cost to set up a restaurant varies according to location & so the minimum amount for a down payment will vary. Generally, we require a minimum of Rs.3 Crores to Rs.3.5 Crores (for India) of non-borrowed personal resources to consider you for a franchise.
FOR FRANCHISE DETAILS PLEASE CONTACT:
franchise@smokehubbarbeque.com
+91 91 76433352 / +91 95 00033352 /
+91 44 46310909
www.smokehubbarbeque.com
No.51.2nd Floor, Arunachalam Rd, Saligramam, Chennai-93
(OPP to Prasad Lab, above NATURALS)